AARON M. JOHNSON, PHD
Principle Investigator




Ph.D. Rockefeller University




Postdoc Harvard Medical School




Hometown: Rochester​, MN



E-mail: aaron.m.johnson@ucdenver.edu
(don't forget the ".m.")
Office: 303-724-3224
Lab: 303-724-5837

​Interests:

building chromatin, brewing beer, live music
CURRENT GRAD STUDENTS
Stephen Wu


B.S. Northeastern University

Hometown: Watertown, MA

​Email:

stephen.wu@ucdenver.edu

Interests: Karaoke, eating eating eating, and gastronomy
Lab Project: RNA-Heterochromatin

​

Justin Roberts

​B.S. Computer Science, George Washington University

B.S., M.S Biology, South Alabama University

Hometown: Mobile, AL

Email:

Justin.Roberts@ucdenver.edu

Interests: Beers, Bees, Beats, and Beads
Lab Project: RNA-Heterochromatin
PRAs and Post-Doc Fellows
April Griffin

Lab Manager
B.S. Northeastern University
M.A. Harvard University
Hometown: Buffalo Creek, CO
​​
Email: april.griffin@ucdenver.edu
Interests:

Family time, creating in the kitchen, gardening when the kitchen gets dirty


Lab Project: All projects, as she is the lab's swiss army knife


Allison Porman

Postdoc




B.S Lehigh University




Ph.D. Brown University




Hometown: East Brunswick, NJ


Fellowship Award


Cancer Biology T32 Post-Doc Training Grant


DoD BCRP Breakthrough Fellowship


​




​

Email: allison.porman@ucdenver.edu
Interests: self-growth and wearing onesies
Lab Project: RNA - Heterochromatin
Maggie Balas, Ph.D.
Postdoc
​B.S. Metropolitan State University
Hometown: NY

Email: maggie.balas@ucdenver.edu
Interests: All tings junglist, solitude, vinyl toys
Lab Project: RNA-Heterochromatin
Current Rotation/Summer Students

Chloe Barrington-Ham


B.S. UNC Asheville
Hometown: Raleigh, NC

Email: chloe.barrington-ham@ucdenver.edu
Interests: Screening phone calls, burritos, and door etiquette.

Lab Project: RNA-Heterochromatin


Maddie Chrupcala


Currently studying for a B.S. at Colorado College
Hometown: Barrington, RI
Email: madison.chrupcala@ucdenver.edu
Interests: Skiing, icebreaker games, and Guacamole.

Lab Project: RNA-Heterochromatin

FORMER LAB MEMBERS
Karly Sindy, MS
​Former Lab Manager and Falconeer.
Now doing amazing things in South Carolina
Trevor Johns (PRA)
Michelle Kennedy (Cancer Center Summer Intern)
Krystal Haislop (Grad student at U Penn)
Powered by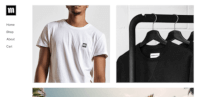 Create your own unique website with customizable templates.